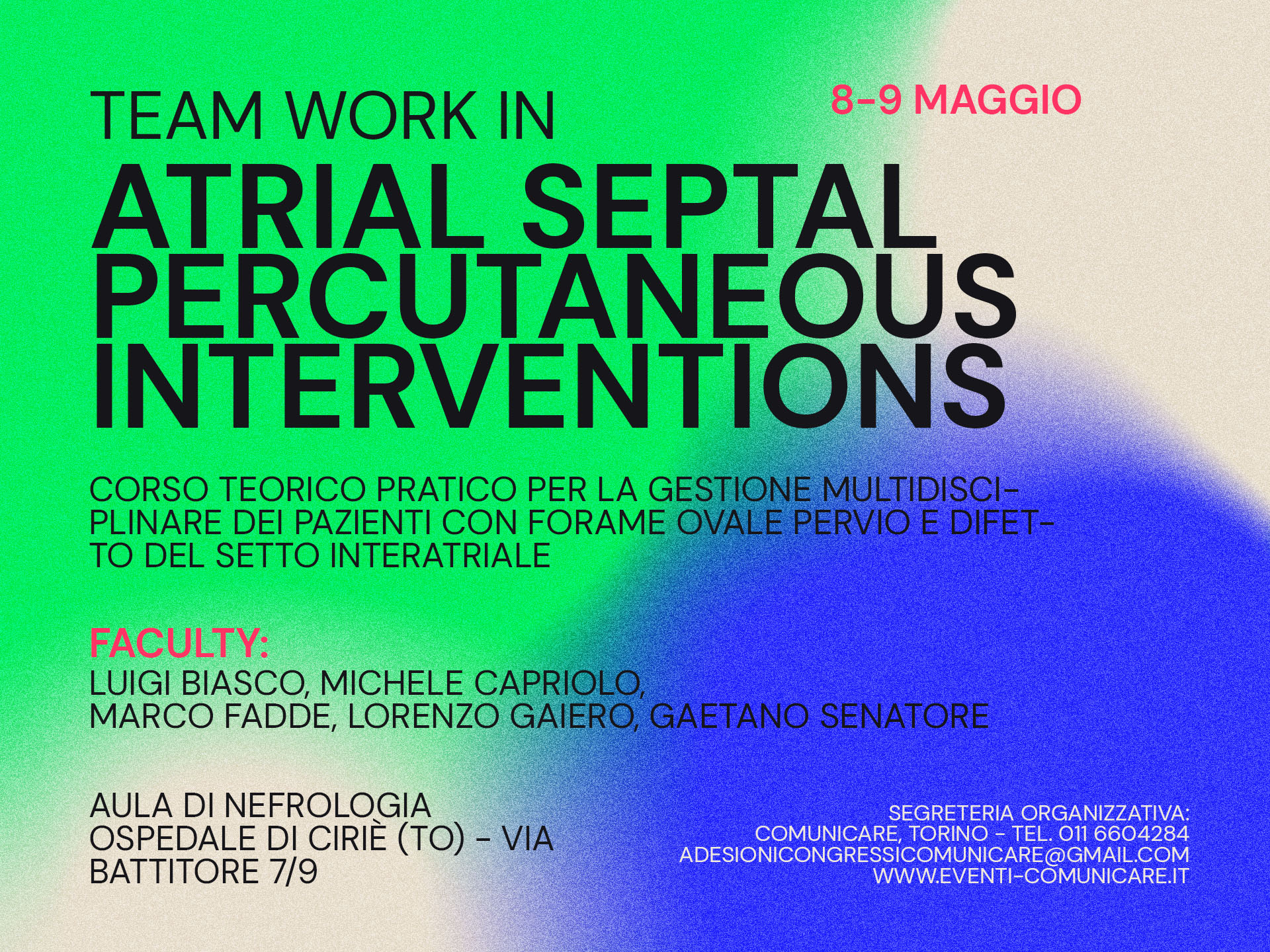 A Comprehensive Course on Percutaneous Atrial Septal Interventions: Advancing Multidisciplinary Patient Care
CS Medical, a leading healthcare company, is proud to sponsor an upcoming event focused on percutaneous atrial septal interventions. This theoretical and practical course aims to introduce interventional cardiologists and imaging specialists to the techniques of atrial septal closure. The event will highlight the secondary prevention of cryptogenic ischemic cerebrovascular events in patients with a patent foramen ovale (PFO) and the management of patients with atrial septal defects (ASD). By combining theoretical lectures, case presentations, live procedures, and hands-on tutorials, this course emphasizes the importance of multidisciplinary evaluation in the management of these patients.
Event Details:
Date: May 8-9, 2023
Location: Aula di nefrologia, Ospedale di Ciriè (TO) – Via Battitore 7/9
Organizer: COMUNICARE Torino
Rationale:
Theoretical and Practical Course for the Multidisciplinary Management of Patients with Patent Foramen Ovale (PFO) and Atrial Septal Defects (ASD)
Faculty:
Distinguished faculty members will be leading the course:
Luigi Biasco
Michele Capriolo
Marco Fadde
Lorenzo Gaiero
Gaetano Senatore
Course Program – Monday, May 8:
14:00 Course Introduction
14:10 Anatomy and Imaging of the Atrial Septum: What the Interventionist Needs to Know from Echo in PFO Patients
14:40 Evidence and Indications: What the Literature Tells Us
15:00 Workshop: Materials and Procedural Techniques. Device Preparation for PFO Closure
15:30 Clinical Case Presentation
16:15 Case I: Percutaneous Closure of FOP
17:30 Research and Development: Designing and Engineering Devices
18:00 Tips and Tricks: What to Have, What to Do When Things Go Wrong
Course Program – Tuesday, May 9:
09:00 Echocardiographic Anatomy of the Atrial Septum in ASD Patients
09:50 Cardiac Catheterization in ASD Patients: Data Collection, Interpretation, and Utilization
10:30 Case II: Percutaneous Closure of ASD (if DIA is unavailable, PFO closure will be demonstrated)
12:30 Live Cases in a Box (with ASD closure if not demonstrated live): Platypnea-Orthodeoxia Syndrome, Decompression Sickness, Complex Closures
CS Medical is honored to sponsor this course on percutaneous atrial septal interventions. By bringing together interventional cardiologists, neurologists, imaging specialists, and clinicians, the event will emphasize the importance of a multidisciplinary approach in the management of patients with PFO and ASD. Through theoretical knowledge, practical demonstrations, and interactive sessions, participants will gain valuable insights and skills to enhance patient care and outcomes. CS Medical remains committed to supporting initiatives that drive innovation and collaboration in the field of cardiovascular medicine.